General Information
The UM MS program offers students the opportunity to gain foundational knowledge in criminology and criminal justice as well as to tailor their electives and culminating experience in ways that best enable them to meet their professional and personal goals. 
The MS degree requires 30 credits for graduation.  Students may elect to complete a Master's thesis, comprehensive exam, or internship project and paper for their final projects.  The program is designed for students to enroll in the fall and complete their degrees in three semesters (full time enrollment).   
We strongly encourage prospective students to review the information about our faculty and their research interests. 
Admissions requirements are**:
A baccalaureate degree from an accredited institution;
A minimum GPA of 3.0 in the last 60 credits of upper division undergraduate coursework and/or 3.0 in graduate coursework;
A minimum GRE score of 950 (or a combined 294 on the revised Test); 
Positive letters for recommendation from three or more sources well familiar with applicants' professional and/or academic preparation;
And, a personal statement demonstrating applicants' rationale for pursuing the MS degree as well as their writing abilities.
General Program Requirements
The MS program consists of the following required five foundational courses:
Required Courses                                                                                                        15 credits
1. Theories in Criminology and Criminal Justice (SOC 670)
2. The Criminal Justice System (SOC 673)
3. Criminology and Public Policy (SOC 677)
4. Advanced Research Methods (SOC 610)
5. Introduction to Statistics (SOC 609)
Students also take at least one additional elective (3 credits) in the Department of Sociology.  Possible options include the following courses:
1. Advanced Statistics (SOC 611)
2. Seminar on Juvenile Delinquency (SOC 676)
3. Seminar on Policing (SOC 674)
4. Alcohol, Drugs, and Crime (SOC 682)
5. Communities and Crime (SOC 679)
6. Comparative Criminal Justice Systems (SOC 683)
7. Courts, Corrections and Punishment (SOC 675)
8. Race/Ethnicity, Crime and Criminal Justice (SOC 680)
9. Sociology of Violence (SOC 681)
In addition, each student is to complete a curricula track consisting of two courses (6 credits), many of which are offered outside of the Department of Sociology.  The four standing curricula tracks and their accompanying courses include:
Research/Statistics (Choose any two)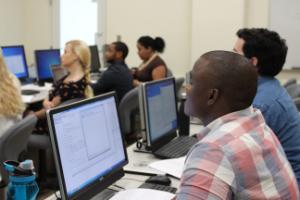 SOC 611 Advanced Statistics
SOC 613 Qualitative Research Methods
EPS 625 Program Evaluation
EPS 709 Introduction to Multilevel Modeling
PSY 633 Structural Equation Modeling
Geographic Information Systems (Take both)
GEG 691 Introduction to GIS
GEG 693 Intermediate GIS
Legal Issues in Criminal Justice (Take both)
LAW 332 Criminal Procedure Adjudication
LAW 320 Substantive Criminal Law
Public Administration (Choose any two)
POL 622 Introduction to Graduate Public Administration
POL 646 Public Policy Analysis and Administration
POL 647 Human Resource Management in Public Service
MGT 620 Managing Through People
Students will also select a culminating project (6 credits).  Students may select from preparing for and successfully completing a comprehensive examination; successfully completing an internship and writing an internship paper; or, students may write and successfully defend an MS thesis. 
There are no language requirements for the M.S. in Criminology and Criminal Justice.
For more details, see the academic bulletin.